The 7th Annual SpyParty Summer Cup has come to an end, and as much as it irks me to write it: All Hail the King. KrazyCaley returned to the the event this year and showed his dominance yet again by winning his third Summer Cup title, breaking the tie with Yeesh, WHO WAS last year's champion and IS the only person to do it back-to-back.
It wasn't an easy road, however. This year's Summer Cup was the biggest yet: 64 players began on the road to the Cup this year, doubling 2018's 32. The prize pool grew with the player pool, with over $200 in cash prizes and other amenities. A full list of the prizes are shown below, some of which were both revealed and award in the Closing Ceremony.


Not only was this the largest Summer Cup to date, it was the highest level of competition as well. 5/6ths of next SCL season's Diamond players joined the fray, and a significant number of the strong old guard players came out of "retirement" to participate.
But what truly made this Summer Cup special was the matches themselves. This Summer Cup has been comprised of some of the best SpyParty play that we've ever seen, with upsets and dark horses and a King retaining his crown. Pofke vs. Turnipboy was a nail-biter of a Quarterfinal that saw Turnipboy reeling off four wins in a row at the end to steal a victory. Every match KrazyCaley played from the Round of 16 onward saw razor-thing margins, with one competitor after another falling just short of taking the set. And the Group of Death, featuring DOWSEY, OpiWrites, Magician1099 and Nanthelas, was so close that it was decided by a secondary tiebreaker.
However, part of what made this Summer Cup the best yet was not what we saw in-game, but what took place behind the scenes: the efforts of the casting crew was headed by the absolute hosting machine that was Dels; the behind-the-scenes work by various people to keep track of the secret group stage awards; the overall community effort that went into this Summer Cup. These are what made it truly the best so far for competitors, casters, and spectators all.
You can find the full bracket below, or view the bracket and all accompanying group stage information on Challonge.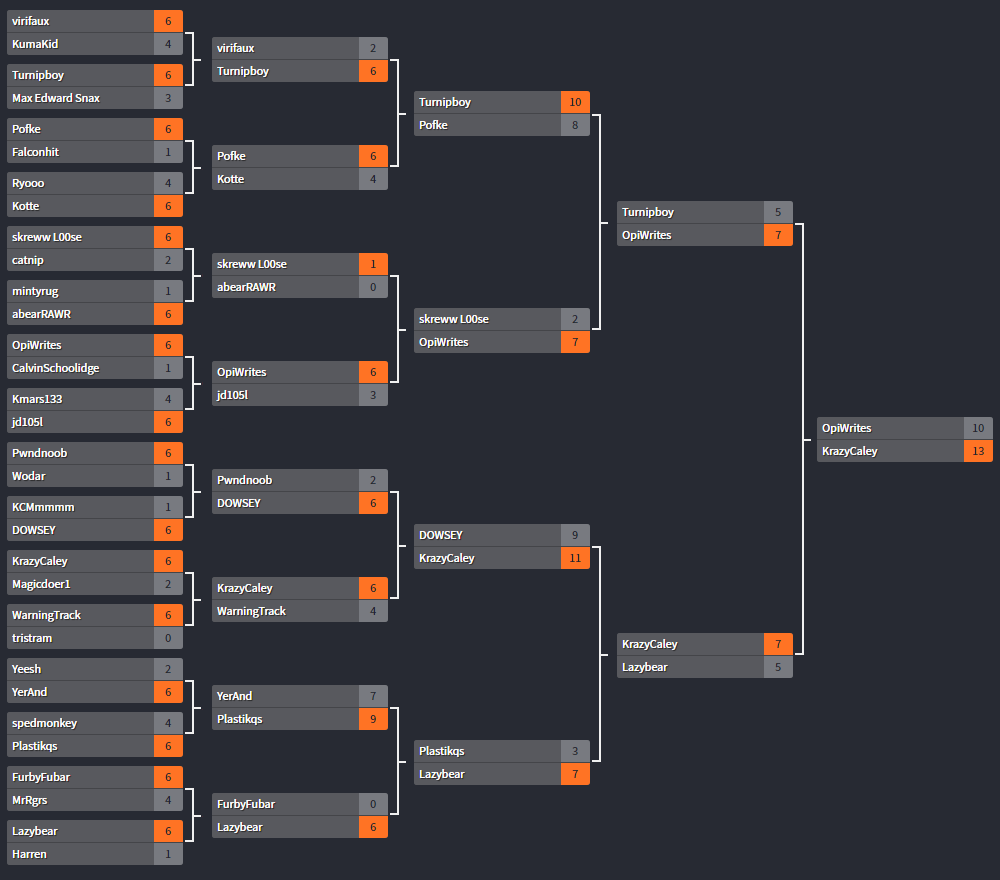 That's a wrap for the SpyParty Summer Cup 2019. This year was so insane that one wonders how it could possibly progress from here. However, that's a question for 2020. For now, I'm ready to bundle up in my winter clothes and hibernate for another year.
Miss out on the excitement? Now you don't have to! Watch the Summer Cup casts on demand. Or, download the replays below: