Round 3
The favorites demonstrated why they were the favorites in Round 3, with just one lower-seeded player taking the win in the second round: #25 seed ryoo narrowly defeated #9 degran 9-8. And don't call it an upset, because ryoo was 5-0 in limited SCL play and was probably underseeded as a result.
A similarly underseed pofke scored a definitive 9-1 win over old-timer monaters. brskaylor won 9-2 against paragon12321. #1 seed turnipboy took care of business 9-4 against frostie, and #3 seed sheph did the same against Max Edward Snax. On paper, the closest Round 3 match was #6 davidw against #11 amlabella, but the former won with the same 9-3 margin of last week's matchup with dbdkmezz.
After hundreds of regular season matches and dozens more in this tournament, we're down to just eight players fighting for the last two auto-promotions: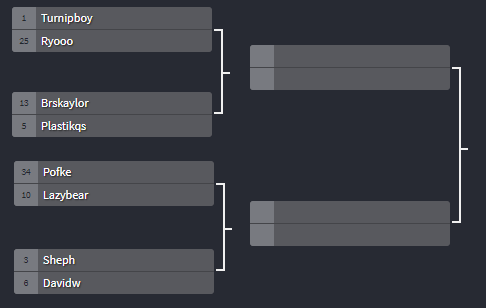 Of the top six seeds, four are still alive, and one of the two eliminated simply failed to play their match. Expect the remaining matches to be hard-fought and generally much closer. Everything which rises must converge.