Lately I've been thinking a lot about the future of SpyParty, as both a game and as a community. I obviously want it to be successful: to stand on its own and make a real mark Chris Hecker can be proud of. A game that will be played for a long time. However, I'm increasingly worried about a few converging factors that I think could put our game in a bad position.
"Steam Early Access will happen this year, not sure when this year (before-PAX and after-PAX are the two epochs for me, not sure where it'll fall)."
– Chris Hecker
On Steam, SpyParty would be available to potentially any one, and Steam access was our #1 request at PAX last year. I'm excited about the huge increase in players this may bring. Steam connects a lot of players, and having access to that will be instrumental to the growth of SpyParty, financially and communally. And although I am worried about the integrity of the community as much as anyone else, that's not the source of my worry.
As things are, the game is sorely lacking in several ways. Without a tutorial, a real way to practice on your own, a matchmaking system, a redesigned UI, and other issues that are too numerous to name specifically, it is scary to imagine people buying the game when it releases on Steam, and then just dropping it because it lacks several features many people consider basic. It is for this reason I want to focus on community based ways to alleviate this problem as best we can. Chris is working hard on the game, it's his baby and he wants it to be great even more than I do, but if it does go on Steam this year I worry people will just pass it up.
When I stream, and a new player hops in the chat and starts asking questions, one of the first things I do is invoke a command I've setup to explain the game: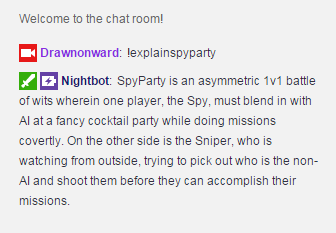 Thinking on this, having a command with such a wordy explanation is probably a bad idea. It has potentially driven people away due to its length and resulting intimidation factor, which is definitely not something to be proud of. However, explaining the game with any amount of brevity is not an easy task, and to compound onto that factor is the fact that it's easier than ever to ignore in-game instructions and just hop into any given game at a moment's notice.
I worry about our ability to gain and retain new players as they learn about the game. Whether it is someone who has played 200 games, or someone who sees the game on Twitch for the first time and decides to watch some tournament games being cast, I feel it is of the upmost importance to figure out how we, as a community, can teach and grow new players to ensure that SpyParty can compete with the big hitters out there. Games like CS:GO, League of Legends, and even StarCraft 2 are generally more grokkable than most SpyParty games, which can end instantly (and seemingly randomly, to someone not paying full attention to what's going on).
These are some ideas I believe tournament organizers might want to look into to help player retention during their events:
More Casters
I've said recently that the most important resource to getting people interested in the game is our casters, as they are our first line of contact with many new players. If they do a good job (read: showing people the game is deeper than some weird 3D Guess Who? variant), our chances of creating a new player go way up. I think we need more casters, to diversify, and to help prepare for a potential surge of interest in the game.
We need more people casting, because Toboshi and WarningTrack can't do it all on their own. Having competition, even just when it's friendly, spurs people to improve, not to mention develop and discover new casting technology, and sharing that to make all casts better. It will also give viewers a choice on who to watch so they can develop favorites, and even watch as different casting styles evolve over time.
Player Profiles and Histories
Giving people a reason to care about the contestants in a tournament is a huge deal. Sports networks love to follow along as people go through dramatic comeback stories, or generally enjoy making their players seem human so we can relate to them. I believe that a similar lesson is to be had here, in the humanizing our players can give the average viewer a reason to care past the basic gameplay they might learn from tournament games. It can make rivalries come alive, and help people understand why it's so shocking that Virifaux and KrazyCaley might both agree on some sniping principle.
Player Interviews
On the same train of thought as the above point, letting viewers into the head of these players is very helpful to let them know they are real people, with goals, who get excited and nervous like anyone else. This also allows for smack-talk, and discussion of strategies the player might use during the match, which can give the audience a real sense of excitement, as they will be expecting a specific play to happen. Lastly, in this format people can sense just how much this means to the players, and it gives it a level of seriousness that's hard to find elsewhere.
Cut the Downtime
Every moment wasted, every second that is silent or not important to the tournament should be used to help people grasp what is going on in the games. In a game this deep, we need all the time we can get. This can go into a lot of different areas, but my first idea was cute animated clips of how the missions work, and maybe how each role wins or loses.
Prizes
Viewers love seeing large prizes being offered for gaming events. Seeing a player or team's reaction to winning a new car, or an all-expense paid trip to somewhere exotic, is exciting, and let's the audience get excited for that player or team, and potentially proud to support them. This makes people want to see the cast through to the end, which also gives us a sense of wrapping up, a feeling of closure if you will, and a feeling there will be a next time that people shouldn't want to miss.
Teams & Clans
This is kind of a tag-a-long on the Player Profiles and Interviews portion, in that people often pick a team or group to root for. It doesn't always take much research, or any, but it gives them some familiarity with the community, and gives them a reason to watch these big events. I don't know much, if anything, of real value about the CS:GO crowd, but I have a favorite team because I've watched a few large events, and I liked how they played or how their players acted during the tournament. The primary purpose of this part is to give any given viewer a sense of identity, something they can get excited about while they are super interested in the game, and something they can hold onto and come back if they decide to leave for a period of time.
My reasoning for focusing on high level matches of SpyParty are for several reasons. They will be cast if they are for a serious event or tournament, which means it'll be much easier for random people who stop by the stream to grasp what's going on. With an event, you can work on things like production values, and make things look nice, not to mention setup interviews and profile overviews that can garner interest in the audience by talking about who these people are and why this matters to them. Tournaments get people interested with something on the line; reputation, prize money, large singular prizes – they all let the audience get excited when the winner is announced.
---
Right now, SpyParty is hard to get into. The tools that makes games inviting aren't implemented yet, and even our casters admit that the game doesn't lend itself well it traditional casting methods because it isn't "generally visually interesting… [or] easy to follow". This puts us on a precarious path, with Steam access sometime this year, the new art remains unfinished, and the most recent update as of this writing will not (to my understanding) aid in any of these endeavors in a serious, tangible way.
To put it bluntly, with the combination of little to no tools to help teach new players in a practical manner, and the possibility of a large influx of people, I feel like our best shot of keeping people interested lays in community-based efforts until we get features like tutorials fully implemented.
Do you feel like I'm making a big deal out of nothing? Or perhaps that these solutions are misguided, and a different approach is needed? Please feel free to leave any feedback on this particular piece by commenting below, tossing me a line on Twitter, or by PMing me in the beta forums.
-Drawn