The big charity streamathon is close (two days: Saturday, May 8th!), so here's a quick rundown of the planned schedule, as well as the specific charities donations will be going to (with reasoning for each). We'll also be personally matching every dollar. Please do stop in, either to help support a great cause or just to hang around, chat, and amplify the fun. All happening at twitch.tv/spypartyfans. UPDATE: the entire 10.5 hour stream is now available on Twitch!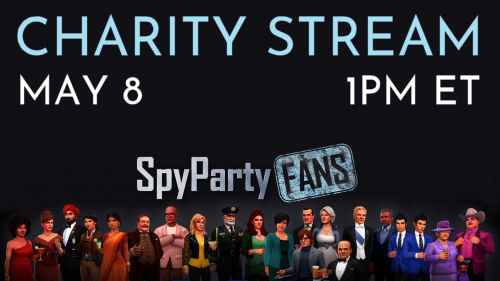 Schedule
Below you'll find a rough timeline of the events we've got planned. Littered throughout the broadcast will be short breaks between and during events to unveil new site features (and other surprise projects) as the community hits donation thresholds, too.
Please note the vagaries of live broadcasts mean start and end times may shift a bit:
1:00 PM ET
Wobble's Whackadoodle Replay Relay

A whole bunch of people asked me to stream this, so I assume it's going to make me look very foolish. Watch me be hopelessly confused for a good cause.
2:30 PM ET
SpyPartiers Play Jackbox

SpyParty people play Jackbox games: Quiplash, Tee KO, and Trivia Murder Party. Featuring KrazyCaley, LtHummus, aforgottentune, Drawnonward, Steph, OpiWrites, and WarningTrack.
5:00 PM ET
Dice Another Day

Join an adventuring party of Wodar, skrewwl00se, Slappydavis, OpiWrites and WarningTrack as they navigate a SpyParty-themed tabletop RPG created by spedmonkey and DM'd by KrazyCaley.
If you thought the AI RNG could be frustrating, wait until you watch these players try to accomplish missions at a cocktail party with dice.
7:15 PM ET
Toboshi and Track: Eight Years of Bugging Out

What's this? Toboshi playing SpyParty rather than casting it? Both, actually: watch Tobo and WarningTrack cast of his matches, and take a brief stroll down memory lane with footage of one of their ancient VODs.
8:00 PM ET
Cause KrazyCaley Pain

Watch KrazyCaley play a game he loathes: aforgottentune, Steph, and WarningTrack will demolish him in NERTS. Pain for a good cause.
8:45 PM ET
Stupid Balcony Games

You've heard about them, and you've seen them ruin your Daily Challenges, but now you get to experience them fully: Drawnonward and WarningTrack play one of their extremely dumb Balcony sets, with a possible (depending on you!) SPECIAL SURPRISE at the end!
9:30 PM ET
Raffle Draw

The day ends, we tally up the raffle tickets and draw the winners.
Per that last item: every dollar donated is a raffle ticket and has a chance to win any of the (yet to be revealed) prizes, but once you win one you're out for the rest. If you have a particular prize you want more than the others, you can direct your tickets to just that prize. Those tickets won't be eligible for any other draws, but you'll get double the tickets to compensate.
---
Charities
For those who can't make it tomorrow, but still wish to donate (and be included in the raffles!), you can do so on on our Streamlabs donation page.

PetSmart Charities spends almost no money on fundraising and has maintained a four-star rating from Charity Navigator for the last 17 years. More than 90% of the money they take in goes directly towards helping animals. Since 1994 they've granted over $400 million to various nonprofit animal welfare groups, have helped over 9 million pets find homes, and provided emergency assistance to over 330,000 pets.
PetSmart has cat rescue centers in nearly all of their 1,600 locations, and the one nearest us is where we got both of our cats.
---

The Animal Welfare Institute is dedicated to reducing animal suffering caused by people. It works to reduce suffering in laboratories, on farms, for commercial purposes, and in the wild. It has a four-star rating with Charity Navigator and over 90% of the money it takes in goes towards these efforts.
Personally, I admire the pragmatic and realistic focus of this organization to reduce suffering in areas where total bans would be unlikely to succeed, as well as their dedication to addressing all forms of suffering.
---

In addition to spaying/neutering animals and other standard animal welfare services, the American Society for the Prevention of Cruelty to Animals increases adoption rates by relocating animals to shelters with room for them, and/or where there is more demand for them. In 2020 alone they relocated nearly 28,000 animals.
They spend more on fundraising than I'd like, but I think the relocation efforts are important and underappreciated, and I support them primarily for that reason. You also have the option of supporting the ASPCA with Amazon Smile.