---
Subscribe
Get email updates about new entries:
---
Twitter
What is SpyParty?
SpyParty is a spy game about human behavior, performance, perception, and deception. While most espionage games have you spend your time shooting stuff, blowing stuff up, and driving fast, SpyParty has you hide in plain sight, deceive your opponent, and detect subtle behavioral tells to achieve your objectives.
Unlike the suave and confident spies you might find in films or books, most spies in spy games are more like super powered commandos--more Rambo than James Bond. By contrast, SpyParty is a new and quite different game about the more interesting and deeper aspects of being a spy.

In 2015, I attended PAX West for the first time. I wrote a brief diary and a not at all brief essay about the experience. When I decided to return in 2016, I thought it'd be fun to make custom shirts for all the booth attendees. I settled on the admittedly minimalist design you see above, on the left, and they were well-received enough that it's become a tradition.
Continue reading →

The big surprise at this year's PAX West was the release of a new venue called "Teien," which translates loosely to "Garden."
The venue is a small pagoda-like structure surrounded by walkways, trees, and tranquil water. Inside are two book shelves and two sets of three statues each, along with two conversation circles and window pads at either end. The aesthetics, however, pale in comparison to two decisions which set Teien apart from every other venue to date:
Continue reading →
This video is a big thank you to the community volunteers who ran this cast all season long. They've been extremely generous with their time and, as you can see, with their enthusiasm. It's been a joy casting with you all, so I gave you the collective honor of counting us in to some of the funniest and most exciting moments of SCL Season 4. Thank you!

Semifinals
And then there were two.
Individual games of SpyParty are mental sprints, but for the players still playing in Challenger, SCL Season 4 has been a marathon. After ten weeks of regular season games and five more in the Challenger tournament, 368 total Challenger matches have been played, and now there's just one left. The prize is automatic promotion from the chaotic mess and mass of its unforgiving Swiss system, to Iron and possibly beyond.
Our Challenger Tournament finalists are set, and they followed very different paths. Our first finalist is turnipboy, the #1 seed who narrowly missed auto-promotion in the regular season, got a first round bye, and has won all of their four matches by a comfortable 9-4 margin. Their last step to the finals was a 9-4 defeat of plastikqs.
turnipboy's opponent is the #10 seed, lazybear, who joined in Week 3, did not secure a bye, and narrowly won their first round matchup with walliard, 9-7. But the lazybear that began the tournament is clearly not the one still in it, as he's scored better margins against better players since then, most notably a 9-5 win against #3 seed sheph just this week.
The final match will be cast this Sunday at 3:00 PM PT on the official SpyParty Twitch channel.

Quarterfinals
For the first time in the tournament, all higher seeds won their matchups.
ryoo's deep run came to an end after meeting #1 seed turnipboy, who lived up to his seeding with a strong 9-4 victory. All three of his matches have been by that exact margin. He'll be unlikely to win that comfortably against his next opponent, however: #5 seed plastikqs, who defeated #13 brskaylor 9-6. brskaylor cruised into the quarter-finals without even allowing an opponent to reach four wins before running into one of Challenger's best.
On the other side of the bracket, sheph defeated davidw 9-4. Before this loss, davidw had yet to even play a close match, winning 9-3 in each of his previous two bouts. sheph, on the other hand, survived a scare in the second round, defeating watermeat just 9-8 before winning definitively in round 3, 9-1.
lazybear (#10) was nominally the favorite over pofke (#34), but the latter was clearly underseeded due to late SCL entry, and was considered the favorite by many, particularly after their 9-1 thumping of monaters in the previous round. But lazybear's incredible run continued with a comfortable 9-3 victory.
There are just four players left, and only #10 lazybear has made it this far without the aid of a first round bye.

Round 3
The favorites demonstrated why they were the favorites in Round 3, with just one lower-seeded player taking the win in the second round: #25 seed ryoo narrowly defeated #9 degran 9-8. And don't call it an upset, because ryoo was 5-0 in limited SCL play and was probably underseeded as a result.
A similarly underseed pofke scored a definitive 9-1 win over old-timer monaters. brskaylor won 9-2 against paragon12321. #1 seed turnipboy took care of business 9-4 against frostie, and #3 seed sheph did the same against Max Edward Snax. On paper, the closest Round 3 match was #6 davidw against #11 amlabella, but the former won with the same 9-3 margin of last week's matchup with dbdkmezz.
After hundreds of regular season matches and dozens more in this tournament, we're down to just eight players fighting for the last two auto-promotions: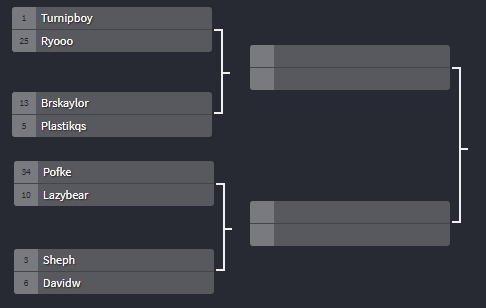 Of the top six seeds, four are still alive, and one of the two eliminated simply failed to play their match. Expect the remaining matches to be hard-fought and generally much closer. Everything which rises must converge.

Round 2
The biggest news in Round 2 was #34 pofke's narrow 9-7 upset of #2 seed bitbandingpig. You can at least partially slot this into the "Underseeded Players" category we mentioned in last week's summary, however, as pofke joined the SCL in Week 7 and went 4-0, obscuring their likely skill level. pofke draws an interesting opponent in monaters, an experienced player who returned after a significant layoff to defeat basshead last week and badplayer this week by a razor-thin 9-8 margin. We never know what to expect when new, hungry players meet more seasoned (but perhaps less recently practiced) ones, so this'll be a big match to watch in Round 3.
We nearly had a second upset of similar size, as sheph narrowly survived against watermeat 9-8 in a dramatic casted match, in what should probably serve as a warning to the latter's Group E competitors in the parallel Summer Cup group stages.
#4 seed tarekmak failed to play their match with #29 seed paragon12321, who advances by default to take on #13 seed brskaylor after their defeat of zerodoom 9-3. Other than that, most of the favorites took care of business: turnipboy defeated belial 9-4, brskaylor defeated, degran defeated jinetic 9-4, and plastikqs took his set against HumanKirby 9-2.
We're down to just 16 competitors now, and so far three of the seven players who received a bye have already been knocked out.

Round 1
The first round of the Challenger tournament is completed. At a glance, it seems as if eight of the 25 played matches in the first round resulted in upsets, but they mostly slot into distinct categories:
Narrow Upsets. Most of Challenger was jammed together, so any two competitors within a few ranks of one another probably have no meaningful difference. This describes such "upsets" as #33 belial defeating #32 rta, or #35 watermeat narrowly defeating #30 portalfreak.

Underseeded Players. The Swiss system run in Challenger allowed for entrants even late in the season. This meant a lot of good players, because they only played a few matches, were seeded lower than their skill level would dictate. This was certainly the case with #47 monaters, who had over 2,000 games played (albeit with a long layoff) before joining the SCL in Week 7, who won 9-1 over #18 basshead. It's also true of #57 skrewwl00se, who joined for Week 10 (and won easily) before defeating #8 magicdoer1. It's doubly rough for magicdoer, who was the highest seed not to receive a bye, and then was randomly paired with a clearly underseeded opponent.

Genuine Upsets. The only unqualified upset is #51 sikeeatric narrowly defeating pash1k (#14) despite the fact that both played the entire season, resulting in a 4-12 points disparity.
Round 2 has already started. We're down to 32, and the top seven seeds—all of whom received byes—get to start playing.