---
Subscribe
Get email updates about new entries:
---
Twitter
What is SpyParty?
SpyParty is a spy game about human behavior, performance, perception, and deception. While most espionage games have you spend your time shooting stuff, blowing stuff up, and driving fast, SpyParty has you hide in plain sight, deceive your opponent, and detect subtle behavioral tells to achieve your objectives.
Unlike the suave and confident spies you might find in films or books, most spies in spy games are more like super powered commandos--more Rambo than James Bond. By contrast, SpyParty is a new and quite different game about the more interesting and deeper aspects of being a spy.
Five songs per day accompany your commute to the convention center, or just to put you in the PAX frame of mind.

The group stages of the largest Summer Cup yet are just about wrapped up. Let's take a look at who made it out of groups, how, and what their prospects look like going forward.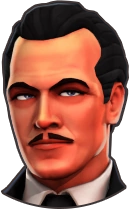 Group A
---
Predictions for Group A seemed to be relatively straightforward for most: virifaux would be the winner of the group, while the rest of the group battles it out for second. Though viri did win the group, and Harren came in second past Tflameee and BasiQ, the individual matches didn't come out the way most expected. viri bled at the hands of Tflameee, and only took first in the group of the strength of tiebreakers. Unfortunately, Tflameee's 1-1-1 record was not enough to advance, due to their draw against BasiQ, who gained their only point during that match.
You should know who the spy is and why the spy is the spy.
Hints vary in quality and how much they reveal, but are mostly meant to help. Gender reveals the gender of the spy, so it should be about a 50% cut in possible suspects each time (casts were selected randomly).
The first five are "easier." All 12 are courtesy of abearRAWR, who also created the first set of still image puzzles.
SpyParty is a deep and complicated game people play for thousands of hours. Blindfolded SpyParty is not.
The first ever Tournament of Position kicks off this week. Players from divisions as high as Gold will face off with standout players from Silver and below, the latter vying for the possibility of significant promotion. 16 total competitors are taking part in the four-round swiss tournament, seeded first by division, then by standings. The 1st place finishers in Bronze and Copper (Sheph and Max Edward Snax) elected to take the auto promotion to the next division up instead of competing in the ToP; players replacing them are marked with asterisks in the list of pairings below:
We gave you a short break after abearRAWR's still image puzzles, and now we're back with three more video entries from Plastikqs. Answers coming next week. Enjoy!
As a small change of pace from the last couple of weeks, we present these still image puzzles created by abearRAWR. As with the video puzzles of the previous weeks, you should be able to spot the spy in all of them, though in some cases the giveaway is extremely subtle. The last one, in particular, requires some outside-the-box thinking. You can (and probably should) click on each to bring up a larger version. Good luck, and good hunting:
It's Monday, so that means more SpyParty Tsumego puzzles! These three new entries are, again, courtesy of Plastikqs, and you may have noticed a gradual increase in difficulty. Enjoy, and good luck!